This DLC contains one Legendary Hunter, two Legendary weapons and one Legendary Tool: The Reaper (Hunter), Quietus (Specter 1882 Compact), Memento Mori (Winfield M1876 Centennial), and The Scythe (Throwing Axe).
Claeg Grey donned the mask and robe not for himself, but for the sake of his family. The first time Claeg realized something was wrong was when he went out on an errand for his wife Emma. He kissed her goodbye and mounted his horse to ride into town, but when he blinked once again, he was five miles away from home and his horse lay bleeding from its throat. He walked all the way back home covered in blood to meet the panicked tears of his wife, children, and friends.
From then on, it took Claeg every fiber of his being to concentrate even on the smallest task. Doing work on the farm became insurmountable labor, and his children wept in the corners when he mixed up their names and faces. Emma took him to countless doctors who couldn't give a name to his ailment, but any person of the cloth they met all said the same thing: A demon was slowly taking over Claeg's body, and he was in dire need of salvation. "The demon is only sated after sacrifice!" The good Christians would wail. "Stop him before it's too late."
But the time to stop Claeg never came. And when he awoke one day to his friend's blood upon his throwing axe, his wails of anguish echoed through the town. It was death that brought Claeg back to life, and so Emma brought him to the man in DeSalle who they knew dealt in death.
And death he dealt. Waking to become himself only when blood caked his hands, and his prey took their last breath. Countless has to die so that he, in a sense, wouldn't. So that he remembered the reason he lived this torturous existence. So that he could remember the laughs of his children and the touch of his wife. So that no demon could take his place.
Claeg Grey donned the mask and robe not for himself, but for the sake of his family. So that no one would know his true self. So that his loved ones could finally find peace once more. And so that he could find clarity in freely administering death.
The Reaper
Claeg Grey's memory was leaving him. As his mind drifted and became blank, there was one thing that brought him back: Taking someone's life. Desperate to keep him alive, Claeg's family sent him to DeSalle where he could freely reap death.
Quietus
After a month or so of success in the Hunt, Emma encouraged Claeg by gifting him a Specter 1882 Compact that she felt fit his new image: Tarnished but powerful. Sullied yet divine.
Memento Mori
Every bullet has weight and meaning in the chamber of this Winfield M1876 Centennial, and somehow Claeg still knows the importance of each. Though shooting it brings relief, it also brings loss of life, and despair.
The Scythe
Claeg's childhood friend Jim Mathis stayed by his side even as the Reaper's memories began to fade. He was devastated when he realized he was using a Throwing Axe to reap his friend's throat instead of crops.
[US] Hunt: Showdown – Fear The Reaper
Tax included. Discount code will be applied or can be added at checkout.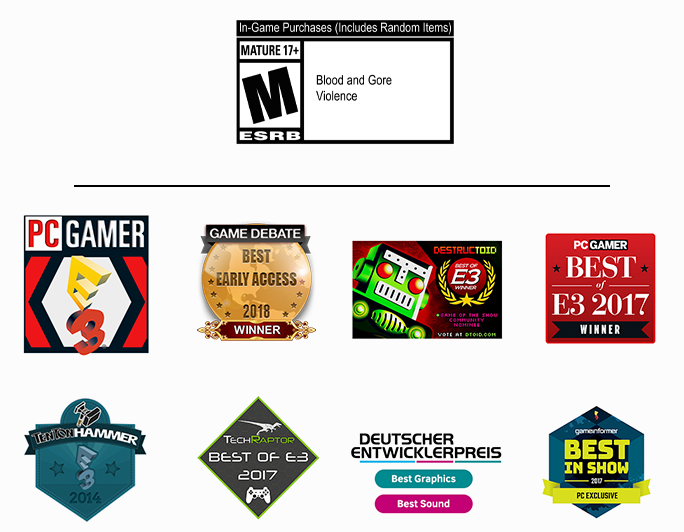 Secure payment

Instant delivery for keys

30-day money back guarantee for unused keys