This DLC contains one Legendary Hunter, two Legendary Weapons, and one Legendary Tool:  
- Captain Laffite (Legendary Hunter) 
- Scuttled Glory (Legendary Winfield 1887 Terminus) 
- Knuckle Shunt (Legendary Scottfield Model 3 Brawler)  
- Hagfish Bronze (Legendary Choke Bomb)  
Captain Laffite
Filth roils alive and precious inside Captain Laffite. His arteries have transformed into marsh ways and canals for a kind of life only drowned captains can know. He inhales curses. Spits out gunpowder smoke. When a ship sinks, he's there to guide it home.
Scuttled Glory
The United States roams Captain Laffite's mind as a divine shipwreck. It shambles along waterways with ten thousand propellors and ten thousand flags trail from its masts. He's torn those banners. He's wrapped them around this Winfield 1887 Terminus pulled from some ship's hallowed stowage.
Knuckle Shunt
Hellscapes of wrecked warships are strewn across the Land of the Dead. Pipes and plumbing from the machines spread as bramble and leaking briars, concealing scarce materials. Captain Laffite has retrofitted a pipe cutter to this Scottfield Model 3 Brawler to navigate such passes.
Hagfish Bronze
Once the thurible of a seaborne bishop, Captain Laffite scavenged parts for this Choke Bomb from the wreckage of a Victorian pleasure craft. It was used to ward off terrors from the lowest tide the Land of the Dead has to offer.
Crabs came for him first. They pinched off the softest flesh and chewed with diseased mandibles. He rolled on razor shells as an urchin lapped up bile with the spines of its mouth. All beings of low tide trawled the marsh to join in the dismemberment. Above him the sky was pure, deep water, and the fate of all drowned men flooded mud-ripe into his lungs.
Time did not exist for Burman Laffite in the Land of the Dead, and his torment stretched forever. Memories surfaced, sank, and surfaced again while a scarab behemoth gnawed his spine:
Tossed overboard as a baby. A steamboat's searchlight swiping over his infant, lice-ridden flesh. A boyhood spent on docks, knee deep in fish guts, beaten at every saloon in New Orleans. Civil War. Hiding under a flag from Rebels. Horses beheaded by cannonballs. The Union Navy. An explosion, abandoning the Housatonic. Reveling in a failed succession. Failed marriage. Failed fatherhood. And finally, a failed steamboat captain. Cursed upon the deadest of seafloors.
Inside his lungs a kingdom of mud festered. It kept him alive as crustacean goliaths swallowed his parts and regurgitated them once more. The Delphine's spirit mocked him on the wind.
"How dare you abandon me," the wind said.
Captain Laffite vowed an apology but found no tongue with which to speak.
He began his life as salvage, and as salvage it would end. A forsaken soul wandered across him. They picked his head off a starfish, lubricated his nervous system with oil and sewed it back into place. Captain Laffite's mind fractured through his decayed organs, either making him alive ten times over or not alive at all.
[US] Hunt: Showdown - Law of Salvage
Tax included. Discount code will be applied or can be added at checkout.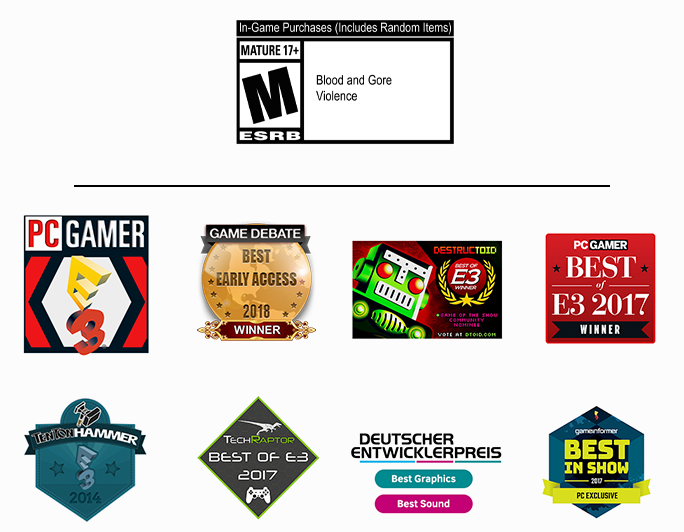 Secure payment

Instant delivery for keys

30-day money back guarantee for unused keys